The main speakers of the Rome MED – Rome Mediterranean Dialogues 2016 – share their opinion on the event topics

Interviews
Shared Prosperity
Under the "Shared Prosperity" pillar, specific attention is devoted to the role that business leaders and civil society can play to foster prosperity and political stability in a region where new opportunities may be seized. In this context, MED 2016 also addresses two related topics: matching energy security objectives with sustainable development goals, and engaging Sub-Saharan African countries in dialogues that are often limited to the Northern and Southern shores of the Mediterranean.
Shared Security
Discussions on "Shared Security" are focused on viable strategies to fight terrorism and promote successful post-conflict transitions and institution-building aimed at enhancing resilience in Mediterranean countries. This will be all the more possible if new opportunities are offered to young generations across the region through: more inclusive growth, putting an end to the narratives of hatred and exclusion that fuel jihadist movements; intelligence cooperation and engagement of local communities to counter violent extremism and organized crime. These goals require an additional effort: rethinking the regional order in the MENA area.
Migration
The recent rise in migrant and refugee flows is turning into a humanitarian crisis. In this context, the "Migration" pillar encourages discussion about migration-related topics, including: identifying safe and legal routes for asylum seekers; fostering social inclusion; providing protection and assistance to migrants in need; and efficiently combining counter-trafficking policies with the respect of human rights.
Civil Society & Culture
The "Civil Society and Culture" pillar builds upon the acknowledgment that the Mediterranean region is a unique "melting pot" of cultures and religions, with important historical legacies, and a rich natural and cultural heritage. Topics in this pillar are: social and religious pluralism; counter-narratives to fight religious extremism; the role of the media in overcoming bias and misperceptions; and the crucial role of women and the younger generations.
Participation to the event is by invitation only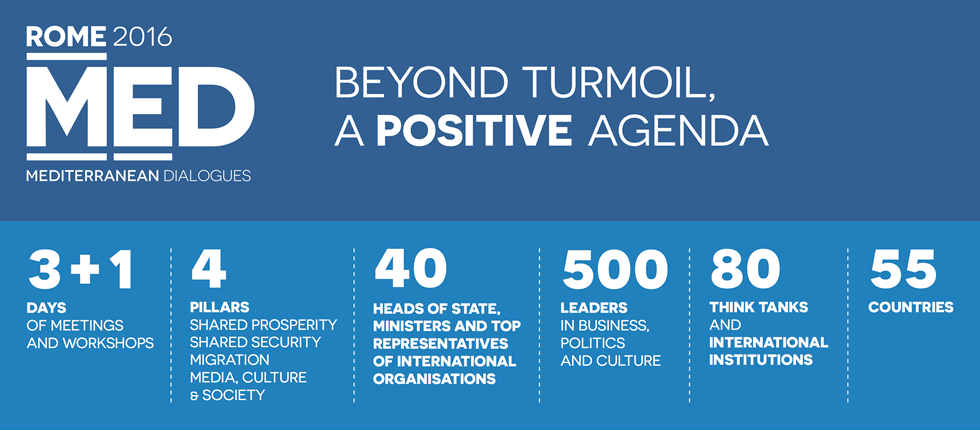 Partner